Melbourne Translation
»
Norwegian Translation Services
Norwegian Translation Services
Our NAATI Norwegian translators provide fast and accurate Norwegian translation services.
Fast document translations by professional Norwegian translators are delivered with a 100% acceptance rate for migration and legal purposes.


"
Thank you team for the fast response and fast delivery, got the translation today.
"
Han, VIC
"
Super professional on absolutely everything !! Very kind and did a perfect job. Thank you so much !!
"
Yuko, VIC
"
Translations all received within a day which is faster than I expected. I am very glad and will recommend you to my friends.
"
Billy, VIC
Our Customers
Car rental companies
Law firms and solicitors
Loan applicants
Logistic companies
Marketing departments
Researchers
Schools and education providers
Visa applicants
How Do I Get The Translations?
To begin, simply email us your documents (enquiry@melbournetranslation.com.au). Once you get a quote and agree to the price, you can pay via credit card online and receive the Norwegian translation by both email and post. You can also use this form to submit your docuemnts for a free quote.
Why Choose Us?
Low Price, No hidden fees
100% Acceptance Guarantee
Professional Norwegian translators
Experience in translating all kinds of documents
Personal, friendly service
100% Acceptance
Sydney
Melbourne
Brisbane
Perth
Canberra
Darwin
Hobart
Adelaide
Wollongong
Newcastle
Cairns
The Norwegian Language
More About The Norwegian Language
The languages now spoken in Scandinavia developed from the Old Norse language, which did not differ greatly between what are now Danish, Norwegian, and Swedish areas. In fact, Viking traders spread the language across Europe and into Russia, making Old Norse one of the most widespread languages for a time. According to tradition, King Harald Fairhair united Norway in 872. Around this time, a runic alphabet was used. According to writings found on stone tablets from this period of history, the language showed remarkably little deviation between different regions. Runes had been in limited use since at least the 3rd century. Around 1030, Christianity came to Norway, bringing with it the Latin script. Norwegian manuscripts in the new alphabet began to appear about a century later. The Norwegian language began to deviate from its neighbors around this time as well.
Viking explorers had begun to settle Iceland in the 9th century, carrying with them the Old Norse language. Over time, Old Norse developed into "Western" and "Eastern" variants. Western Norse covered Norway and overseas settlements in Iceland, Greenland, the Faroe Islands and the Shetland Islands, while Eastern Norse developed in Denmark and south-central Sweden. The language of Iceland and Norway was practically the same up until the 14th century, when they started to deviate from each other. The language phase traditionally dated to 1350–1525 is known as Middle Norwegian and is seen by many as a transitional period from Old Norwegian to Modern Norwegian. The reason for this is that although most languages are in a state of constant change, Norwegian phonology, morphology and syntax changed considerably during this time. The use of grammatical case, and a great portion of the conjugation of verbs was lost and replaced by a more fixed syntax, use of prepositions and a greater use of auxiliary based verb forms. During the late Old Norse period and this period there was also a considerable adoption of Middle Low German vocabulary. Similar development in grammar and phonology happened in Swedish and Danish, keeping the dialect continuum in continental Scandinavia intact, but with greater dialectal variation. This process did not, however, occur in the same way in Faroese and Icelandic. These languages remain conservative to this day, when it comes to grammar and vocabulary, so mutual intelligibility with continental Scandinavia was lost.
1
Norwegian Legal Translation Services

We provide Norwegian legal translations and Norwegian business translation services. All documents received are treated with meticulous care and confidentiality. Our Norwegian translators provide translation and proofreading for:
Business proposals in Norwegian
Research papers in Norwegian
Minutes, emails, business correspondence
Annual reports in Norwegian
Financial statements in Norwegian
Formal letters, legal documents
Norwegian Translator for Migration Documents

We translate Norwegian language documents daily for migration purposes in Australia. Such documents include police checks, passports, identification cards, bank statements, utility bills and other items that may be needed when you submit your visa application in Australia.
Our experienced Norwegian migration translators are ready to help you. All (NAATI) certified translations will contain the NAATI accredited translator's stamp and signature. Besides migration translation service, we also translate personal documents required for legal purposes.
Norwegian Technical Translation

Get the right Norwegian translator experienced in translating specialised technical material.
English to Norwegian technical translations often require consultation with the right people from the industry, no matter how experienced the translator is, to attain the accurate and appropriate terminology to be understood from people working in the industry. This involves more time and our Norwegian translators are chosen because they have the positive attitude in doing research for the final Norwegian translation.
English to Norwegian Translation or Multi-language Translations
You can entrust your multi-language translation needs to us and be assured that your projects get delivered on time. We have a strong team of translators from all major languages, experienced in assisting agencies with Norwegian translation and typesetting so that designers can concentrate on just design.
Norwegian Medical Translation

We provide Norwegian medical translation for overseas travel, medical translation for doctor's journals and translation for medical equipment or medical questionnaires. Our Norwegian medical translators
translate medical articles, patient documents (informed consensus)
translate information on patients, medical letters, medical sheets, hospital discharge notes
translate medical receipts, medical prospectus
translate user guides for medical personnel and patients
translate manuals and presentation booklets for medical equipment
translate medical questionnaires
translate clinical, pharmacology, biology studies
translate medical questionnaires
translate text in any other medical specialty
Besides English <> Norwegian Translation
NAATI Chinese to English translation services
NAATI French to English translation services
NAATI Russian to English translation services
NAATI Arabic to English translation services
NAATI Spanish to English translation services
NAATI Portuguese to English translation services
NAATI Danish to English translation services
NAATI Hungarian to English translation services
Most Requested Language Translation and Typesetting Combinations
Norwegian Translator Melbourne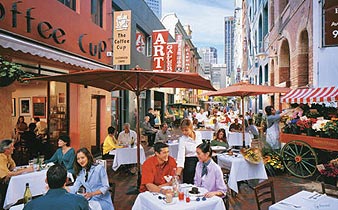 Melbourne is the capital and most populous city in the state of Victoria, and the second most populous city in Australia. The Melbourne City Centre is the hub of the greater metropolitan area and the Census statistical division—of which "Melbourne" is the common name. As of June 2010, the greater geographical area had an approximate population of four million. Inhabitants of Melbourne are called Melburnians or Melbournians.
The metropolis is located on the large natural bay known as Port Phillip, with the city centre positioned at the estuary of the Yarra River (at the northernmost point of the bay). The metropolitan area then extends south from the city centre, along the eastern and western shorelines of Port Phillip, and expands into the hinterland. The city centre is situated in the municipality known as the City of Melbourne, and the metropolitan area consists of a further 30 municipalities.
Melbourne was founded in 1835 (47 years after the European settlement of Australia) by settlers from Launceston in Van Diemen's Land. It was named by governor Richard Bourke in 1837, in honour of the British Prime Minister of the day, William Lamb—the 2nd Viscount Melbourne. Melbourne was officially declared a city by Queen Victoria in 1847. In 1851, it became the capital city of the newly created colony of Victoria. During the Victorian gold rush of the 1850s, it was transformed into one of the world's largest and wealthiest cities. After the federation of Australia in 1901, it then served as the interim seat of government of the newly created nation of Australia until 1927.
Often referred to as the "cultural capital of Australia", Melbourne is the birthplace of cultural institutions such as Australian film (as well as the world's first feature film), Australian television, Australian rules football, the Australian impressionist art movement (known as the Heidelberg School) and Australian dance styles such as New Vogue and the Melbourne Shuffle. It is also a major centre for contemporary and traditional Australian music.1
Norwegian Translator
Get professional language translation services for both Norwegian to English translation and English to Norwegian translation.



Norwegian to English or English to Norwegian Translator
Norwegian NAATI translation services
Qualified full-time translators
Official translations by a translation company
Norwegian translations within 2-3 days
Our Norwegian translators provide translation for:
NAATI Norwegian Translator
NAATI certified translation is required for certain documents such as those related to immigration and visa applications. Your NAATI certified Norwegian document translation will contain the certification and stamp of the Norwegian NAATI translator.
We engage with full-time NAATI Norwegian translators with working experience in the subject matter of the materials they are required to translate. Our NAATI translators are experts in translating documents for visa application purposes in Australia.
With a 100% acceptance rate for migration translation, you can trust Melbourne Translation Services for all your migration document translations. Get a free quote using our form or email your documents directly to enquiry@melbournetranslation.com.au.