Melbourne Translation
»
Persian Translation Services
Persian Translation Services
Our NAATI certified Persian translators provide fast and accurate Persian translation services.
Our professional Persian translators deliver certified Persian translations with a 100% acceptance rate for migration and legal purposes in Australia.
Persian Translator for Migration Documents

Melbourne Translation provides certified Persian translations no matter where you are based in Australia.
Such documents include police checks, passports, identification cards, bank statements, utility bills and other documents that may be needed when you submit your visa application.
Our experienced Persian migration translators are ready to help you. To begin, simply email us with your documents attached for a free quote.
Why Choose Us?
Low Price, No hidden fees
Discount for repeat customers or large orders
Professional NAATI translators for immigration or legal documents
Full-time, professional Persian translators experienced in translating all kinds of documents
Personal, friendly service
Delivery To All Locations
Including:
Sydney
Melbourne
Brisbane
Perth
Canberra
Darwin
Hobart
Adelaide
Wollongong
Newcastle
Cairns
The Persian Language
More About The Persian Language
Persian is an Iranian language within the Indo-Iranian branch of the Indo-European languages. Persian, the more widely used name of the language in English historically, is an anglicized form derived from Latin *Persianus < Latin Persia < Greek Πέρσις Pérsis, a Hellenized form of Old Persian Parsa. According to the Oxford English Dictionary, the term Persian as a language name is first attested in English in the mid-16th century. Native Iranian Persian speakers call it Fârsi. Farsi is the arabicized form of Pârsi, due to a lack of the 'p' phoneme in Standard Arabic (i.e., the 'p' was replaced with an 'f').
In English, this language is historically known as "Persian", though some Persian speakers migrating to the West continued to use "Farsi" to identify their language in English and the word gained some currency in English-speaking countries. "Farsi" is encountered in some linguistic literature as a name for the language, used both by Iranian and by foreign authors. According to the OED, the term Farsi was first used in English in the mid-20th century. The Academy of Persian Language and Literature has declared that the name "Persian" is more appropriate, as it has the longer tradition in the western languages and better expresses the role of the language as a mark of cultural and national continuity. Most Persian language scholars such as Ehsan Yarshater and Kamran Talattof have also rejected the usage of "Farsi" in their articles.
Since the nineteenth century, Russian, French and English and many other languages have contributed to the technical vocabulary of Persian. The Iranian National Academy of Persian Language and Literature is responsible for evaluating these new words in order to initiate and advise their Persian equivalents. The language itself has greatly developed during the centuries.1
Melbourne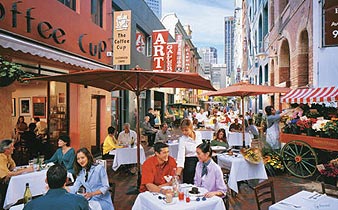 Melbourne is the capital and most populous city in the state of Victoria, and the second most populous city in Australia. The Melbourne City Centre is the hub of the greater metropolitan area and the Census statistical division—of which "Melbourne" is the common name. As of June 2010, the greater geographical area had an approximate population of four million. Inhabitants of Melbourne are called Melburnians or Melbournians.
The metropolis is located on the large natural bay known as Port Phillip, with the city centre positioned at the estuary of the Yarra River (at the northernmost point of the bay). The metropolitan area then extends south from the city centre, along the eastern and western shorelines of Port Phillip, and expands into the hinterland. The city centre is situated in the municipality known as the City of Melbourne, and the metropolitan area consists of a further 30 municipalities.
Melbourne was founded in 1835 (47 years after the European settlement of Australia) by settlers from Launceston in Van Diemen's Land. It was named by governor Richard Bourke in 1837, in honour of the British Prime Minister of the day, William Lamb—the 2nd Viscount Melbourne. Melbourne was officially declared a city by Queen Victoria in 1847. In 1851, it became the capital city of the newly created colony of Victoria. During the Victorian gold rush of the 1850s, it was transformed into one of the world's largest and wealthiest cities. After the federation of Australia in 1901, it then served as the interim seat of government of the newly created nation of Australia until 1927.
Often referred to as the "cultural capital of Australia", Melbourne is the birthplace of cultural institutions such as Australian film (as well as the world's first feature film), Australian television, Australian rules football, the Australian impressionist art movement (known as the Heidelberg School) and Australian dance styles such as New Vogue and the Melbourne Shuffle. It is also a major centre for contemporary and traditional Australian music.1
"
Thank you team for the fast response and fast delivery, got the translation today.
"
Han, VIC
"
Super professional on absolutely everything !! Very kind and did a perfect job. Thank you so much !!
"
Yuko, VIC
"
Translations all received within a day which is faster than I expected. I am very glad and will recommend you to my friends.
"
Billy, VIC
Persian Translator
Get professional language translation services for both Persian to English translation and English to Persian translation.
NAATI Certified Persian translators
Professional full-time Persian translators
Official translations by a translation company

Persian to English or English to Persian Translator
NAATI Certified Persian Translator
Certified translation by NAATI certified translators is required for documents such as those for visa applications, or for the legal courts. Your NAATI translator certified Persian translation will contain the certification statement and stamp of the Persian translator.
We engage with NAATI accredited full-time Persian translators. Many of our Persian translators have more than 10 years' of professional translating experience. They are also experts in translating documents for visa application purposes in Australia.
With a 100% acceptance rate for Australia migration translation, you can trust Melbourne Translation Services for all your migration document translations. Get a free quote using our form or email your documents directly to enquiry@melbournetranslation.com.au.
Persian Translator for Passports, Birth Certificates and Marriage Certificates
We translate all personal legal documents, which are treated in strict confidentiality.
Persian Translator for Technical and Legal Contracts
Fast turn-around time and professional quality for large technical or legal documents for businesses requiring multilingual documents.
We provide multi-language translation and Persian typesetting (DTP services) for brochures, flyers and packaging.
Our DTP team is able to handle large volume requests for all major languages, including complex right-to-left scripts. Our experience in assisting companies with Persian translation and Persian typeset ensures timely the delivery of your brochures and marketing material for print.