Melbourne Translation
»
Russian Translation Services
Russian Translation Services
Our NAATI Russian translators provide fast and accurate Russian translation services.
Fast document translations by professional Russian translators are delivered with a 100% acceptance rate for migration and legal purposes.


"
Thank you team for the fast response and fast delivery, got the translation today.
"
Han, VIC
"
Super professional on absolutely everything !! Very kind and did a perfect job. Thank you so much !!
"
Yuko, VIC
"
Translations all received within a day which is faster than I expected. I am very glad and will recommend you to my friends.
"
Billy, VIC
Our Customers
Car rental companies
Law firms and solicitors
Loan applicants
Logistic companies
Marketing departments
Researchers
Schools and education providers
Visa applicants
How Do I Get The Translations?
To begin, simply email us your documents (enquiry@melbournetranslation.com.au). Once you get a quote and agree to the price, you can pay via credit card online and receive the Russian translation by both email and post. You can also use this form to submit your docuemnts for a free quote.
Why Choose Us?
Low Price, No hidden fees
100% Acceptance Guarantee
Professional Russian translators
Experience in translating all kinds of documents
Personal, friendly service
100% Acceptance
Sydney
Melbourne
Brisbane
Perth
Canberra
Darwin
Hobart
Adelaide
Wollongong
Newcastle
Cairns
The Russian Language
More About The Russian Language
Russian distinguishes between consonant phonemes with palatal secondary articulation and those without, the so-called soft and hard sounds. This distinction is found between pairs of almost all consonants and is one of the most distinguishing features of the language. Another important aspect is the reduction of unstressed vowels, which is somewhat similar to that of English. Stress, which is unpredictable, is not normally indicated orthographically though an optional acute accent (знак ударения, znak udareniya) may be used to mark stress (such as to distinguish between homographic words, for example замо́к (meaning lock) and за́мок (meaning castle), or to indicate the proper pronunciation of uncommon words or names).
Despite leveling after 1900, especially in matters of vocabulary and phonetics, a number of dialects still exist in Russia. Some linguists divide the dialects of Russian into two primary regional groupings, "Northern" and "Southern", with Moscow lying on the zone of transition between the two. All dialects also divided in two main chronological categories: the dialects of primary formation (the territory of the Eastern Rus' or Muscovy, roughly consists of the modern Central and Northwestern Federal districts); and secondary formation (other territory). Dialectology within Russia recognizes dozens of smaller-scale variants. The dialects often show distinct and non-standard features of pronunciation and intonation, vocabulary and grammar.
The Northern Russian dialects and those spoken along the Volga River typically pronounce unstressed /o/ clearly (the phenomenon called okanye/оканье). Besides the absence of vowel reduction some dialects have high or diphthongal /e~i̯ɛ/ in the place of Proto-Slavic *ě and /o~u̯ɔ/ in stressed closed syllables (like in Ukrainian) instead of Standard Russian /e/ and /o/. In morphology it has an interesting feature as a post-posed definite article -to, -ta, -te similarly existing in Bulgarian and Macedonian.
In the Southern Russian dialects unstressed /e/ and /a/ following palatalized consonants and preceding a stressed syllable are not reduced to [ɪ] (like in the Moscow dialect), being instead pronounced /a/ in such positions (e.g. несли is pronounced [nʲasˈlʲi], not [nʲɪsˈlʲi]) – this is called yakanye/яканье.1
Russian Legal Translation Services

We provide Russian legal translations and Russian business translation services. All documents received are treated with meticulous care and confidentiality. Our Russian translators provide translation and proofreading for:
Business proposals in Russian
Research papers in Russian
Minutes, emails, business correspondence
Annual reports in Russian
Financial statements in Russian
Formal letters, legal documents
Russian Translator for Migration Documents

We translate Russian language documents daily for migration purposes in Australia. Such documents include police checks, passports, identification cards, bank statements, utility bills and other items that may be needed when you submit your visa application in Australia.
Our experienced Russian migration translators are ready to help you. All (NAATI) certified translations will contain the NAATI accredited translator's stamp and signature. Besides migration translation service, we also translate personal documents required for legal purposes.
Russian Technical Translation

Get the right Russian translator experienced in translating specialised technical material.
English to Russian technical translations often require consultation with the right people from the industry, no matter how experienced the translator is, to attain the accurate and appropriate terminology to be understood from people working in the industry. This involves more time and our Russian translators are chosen because they have the positive attitude in doing research for the final Russian translation.
English to Russian Translation or Multi-language Translations
You can entrust your multi-language translation needs to us and be assured that your projects get delivered on time. We have a strong team of translators from all major languages, experienced in assisting agencies with Russian translation and typesetting so that designers can concentrate on just design.
Russian Medical Translation

We provide Russian medical translation for overseas travel, medical translation for doctor's journals and translation for medical equipment or medical questionnaires. Our Russian medical translators
translate medical articles, patient documents (informed consensus)
translate information on patients, medical letters, medical sheets, hospital discharge notes
translate medical receipts, medical prospectus
translate user guides for medical personnel and patients
translate manuals and presentation booklets for medical equipment
translate medical questionnaires
translate clinical, pharmacology, biology studies
translate medical questionnaires
translate text in any other medical specialty
Besides English <> Russian Translation
NAATI Chinese to English translation services
NAATI German to English translation services
NAATI French to English translation services
NAATI Arabic to English translation services
NAATI Spanish to English translation services
NAATI Portuguese to English translation services
NAATI Danish to English translation services
NAATI Hungarian to English translation services
Most Requested Language Translation and Typesetting Combinations
Russian Translator Melbourne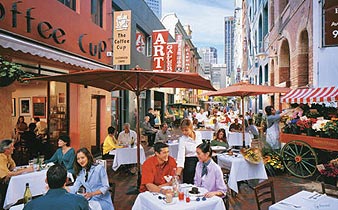 Melbourne is the capital and most populous city in the state of Victoria, and the second most populous city in Australia. The Melbourne City Centre is the hub of the greater metropolitan area and the Census statistical division—of which "Melbourne" is the common name. As of June 2010, the greater geographical area had an approximate population of four million. Inhabitants of Melbourne are called Melburnians or Melbournians.
The metropolis is located on the large natural bay known as Port Phillip, with the city centre positioned at the estuary of the Yarra River (at the northernmost point of the bay). The metropolitan area then extends south from the city centre, along the eastern and western shorelines of Port Phillip, and expands into the hinterland. The city centre is situated in the municipality known as the City of Melbourne, and the metropolitan area consists of a further 30 municipalities.
Melbourne was founded in 1835 (47 years after the European settlement of Australia) by settlers from Launceston in Van Diemen's Land. It was named by governor Richard Bourke in 1837, in honour of the British Prime Minister of the day, William Lamb—the 2nd Viscount Melbourne. Melbourne was officially declared a city by Queen Victoria in 1847. In 1851, it became the capital city of the newly created colony of Victoria. During the Victorian gold rush of the 1850s, it was transformed into one of the world's largest and wealthiest cities. After the federation of Australia in 1901, it then served as the interim seat of government of the newly created nation of Australia until 1927.
Often referred to as the "cultural capital of Australia", Melbourne is the birthplace of cultural institutions such as Australian film (as well as the world's first feature film), Australian television, Australian rules football, the Australian impressionist art movement (known as the Heidelberg School) and Australian dance styles such as New Vogue and the Melbourne Shuffle. It is also a major centre for contemporary and traditional Australian music.1
Russian Translator
Get professional language translation services for both Russian to English translation and English to Russian translation.



Russian to English or English to Russian Translator
Russian NAATI translation services
Qualified full-time translators
Official translations by a translation company
Russian translations within 2-3 days
Our Russian translators provide translation for:
NAATI Russian Translator
NAATI certified translation is required for certain documents such as those related to immigration and visa applications. Your NAATI certified Russian document translation will contain the certification and stamp of the Russian NAATI translator.
We engage with full-time NAATI Russian translators with working experience in the subject matter of the materials they are required to translate. Our NAATI translators are experts in translating documents for visa application purposes in Australia.
With a 100% acceptance rate for migration translation, you can trust Melbourne Translation Services for all your migration document translations. Get a free quote using our form or email your documents directly to enquiry@melbournetranslation.com.au.