Melbourne Translation
»
Japanese Translation Services
Japanese Translation Services
Our NAATI Japanese translators provide fast and accurate Japanese translation services.
Fast document translations by professional Japanese translators are delivered with a 100% acceptance rate for migration and legal purposes.


"
Thank you team for the fast response and fast delivery, got the translation today.
"
Han, VIC
"
Super professional on absolutely everything !! Very kind and did a perfect job. Thank you so much !!
"
Yuko, VIC
"
Translations all received within a day which is faster than I expected. I am very glad and will recommend you to my friends.
"
Billy, VIC
Our Customers
Car rental companies
Law firms and solicitors
Loan applicants
Logistic companies
Marketing departments
Researchers
Schools and education providers
Visa applicants
How Do I Get The Translations?
To begin, simply email us your documents (enquiry@melbournetranslation.com.au). Once you get a quote and agree to the price, you can pay via credit card online and receive the Japanese translation by both email and post. You can also use this form to submit your docuemnts for a free quote.
Why Choose Us?
Low Price, No hidden fees
100% Acceptance Guarantee
Professional Japanese translators
Experience in translating all kinds of documents
Personal, friendly service
100% Acceptance
Sydney
Melbourne
Brisbane
Perth
Canberra
Darwin
Hobart
Adelaide
Wollongong
Newcastle
Cairns
The Japanese Language
More About The Japanese Language
Japanese has an extensive grammatical system to express politeness and formality.
The Japanese language can express differing levels in social status. The differences in social position are determined by a variety of factors including job, age, experience, or even psychological state (e.g., a person asking a favour tends to do so politely). The person in the lower position is expected to use a polite form of speech, whereas the other might use a more plain form. Strangers will also speak to each other politely. Japanese children rarely use polite speech until they are teens, at which point they are expected to begin speaking in a more adult manner.
Whereas teineigo (丁寧語) (polite language) is commonly an inflectional system, sonkeigo (尊敬語) (respectful language) and kenjōgo (謙譲語) (humble language) often employ many special honorific and humble alternate verbs: iku "go" becomes ikimasu in polite form, but is replaced by irassharu in honorific speech and ukagau or mairu in humble speech.
The difference between honorific and humble speech is particularly pronounced in the Japanese language. Humble language is used to talk about oneself or one's own group (company, family) whilst honorific language is mostly used when describing the interlocutor and their group. For example, the -san suffix ("Mr" "Mrs." or "Miss") is an example of honorific language. It is not used to talk about oneself or when talking about someone from one's company to an external person, since the company is the speaker's "group". When speaking directly to one's superior in one's company or when speaking with other employees within one's company about a superior, a Japanese person will use vocabulary and inflections of the honorific register to refer to the in-group superior and their speech and actions. When speaking to a person from another company (i.e., a member of an out-group), however, a Japanese person will use the plain or the humble register to refer to the speech and actions of their own in-group superiors. In short, the register used in Japanese to refer to the person, speech, or actions of any particular individual varies depending on the relationship (either in-group or out-group) between the speaker and listener, as well as depending on the relative status of the speaker, listener, and third-person referents.
Most nouns in the Japanese language may be made polite by the addition of o- or go- as a prefix. o- is generally used for words of native Japanese origin, whereas go- is affixed to words of Chinese derivation. In some cases, the prefix has become a fixed part of the word, and is included even in regular speech, such as gohan 'cooked rice; meal.' Such a construction often indicates deference to either the item's owner or to the object itself. For example, the word tomodachi 'friend,' would become o-tomodachi when referring to the friend of someone of higher status (though mothers often use this form to refer to their children's friends). On the other hand, a polite speaker may sometimes refer to mizu 'water' as o-mizu in order to show politeness.
Most Japanese people employ politeness to indicate a lack of familiarity. That is, they use polite forms for new acquaintances, but if a relationship becomes more intimate, they no longer use them. This occurs regardless of age, social class, or gender.1
Japanese Legal Translation Services

We provide Japanese legal translations and Japanese business translation services. All documents received are treated with meticulous care and confidentiality. Our Japanese translators provide translation and proofreading for:
Business proposals in Japanese
Research papers in Japanese
Minutes, emails, business correspondence
Annual reports in Japanese
Financial statements in Japanese
Formal letters, legal documents
Japanese Translator for Migration Documents

We translate Japanese language documents daily for migration purposes in Australia. Such documents include police checks, passports, identification cards, bank statements, utility bills and other items that may be needed when you submit your visa application in Australia.
Our experienced Japanese migration translators are ready to help you. All (NAATI) certified translations will contain the NAATI accredited translator's stamp and signature. Besides migration translation service, we also translate personal documents required for legal purposes.
Japanese Technical Translation

Get the right Japanese translator experienced in translating specialised technical material.
English to Japanese technical translations often require consultation with the right people from the industry, no matter how experienced the translator is, to attain the accurate and appropriate terminology to be understood from people working in the industry. This involves more time and our Japanese translators are chosen because they have the positive attitude in doing research for the final Japanese translation.
English to Japanese Translation or Multi-language Translations
You can entrust your multi-language translation needs to us and be assured that your projects get delivered on time. We have a strong team of translators from all major languages, experienced in assisting agencies with Japanese translation and typesetting so that designers can concentrate on just design.
Japanese Medical Translation

We provide Japanese medical translation for overseas travel, medical translation for doctor's journals and translation for medical equipment or medical questionnaires. Our Japanese medical translators
translate medical articles, patient documents (informed consensus)
translate information on patients, medical letters, medical sheets, hospital discharge notes
translate medical receipts, medical prospectus
translate user guides for medical personnel and patients
translate manuals and presentation booklets for medical equipment
translate medical questionnaires
translate clinical, pharmacology, biology studies
translate medical questionnaires
translate text in any other medical specialty
Besides English <> Japanese Translation
NAATI Chinese to English translation services
NAATI French to English translation services
NAATI Russian to English translation services
NAATI Arabic to English translation services
NAATI Spanish to English translation services
NAATI Portuguese to English translation services
NAATI Danish to English translation services
NAATI Hungarian to English translation services
Most Requested Language Translation and Typesetting Combinations
Japanese Translator Melbourne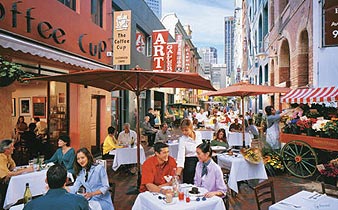 Melbourne is the capital and most populous city in the state of Victoria, and the second most populous city in Australia. The Melbourne City Centre is the hub of the greater metropolitan area and the Census statistical division—of which "Melbourne" is the common name. As of June 2010, the greater geographical area had an approximate population of four million. Inhabitants of Melbourne are called Melburnians or Melbournians.
The metropolis is located on the large natural bay known as Port Phillip, with the city centre positioned at the estuary of the Yarra River (at the northernmost point of the bay). The metropolitan area then extends south from the city centre, along the eastern and western shorelines of Port Phillip, and expands into the hinterland. The city centre is situated in the municipality known as the City of Melbourne, and the metropolitan area consists of a further 30 municipalities.
Melbourne was founded in 1835 (47 years after the European settlement of Australia) by settlers from Launceston in Van Diemen's Land. It was named by governor Richard Bourke in 1837, in honour of the British Prime Minister of the day, William Lamb—the 2nd Viscount Melbourne. Melbourne was officially declared a city by Queen Victoria in 1847. In 1851, it became the capital city of the newly created colony of Victoria. During the Victorian gold rush of the 1850s, it was transformed into one of the world's largest and wealthiest cities. After the federation of Australia in 1901, it then served as the interim seat of government of the newly created nation of Australia until 1927.
Often referred to as the "cultural capital of Australia", Melbourne is the birthplace of cultural institutions such as Australian film (as well as the world's first feature film), Australian television, Australian rules football, the Australian impressionist art movement (known as the Heidelberg School) and Australian dance styles such as New Vogue and the Melbourne Shuffle. It is also a major centre for contemporary and traditional Australian music.1
Japanese Translator
Get professional language translation services for both Japanese to English translation and English to Japanese translation.



Japanese to English or English to Japanese Translator
Japanese NAATI translation services
Qualified full-time translators
Official translations by a translation company
Japanese translations within 2-3 days
Our Japanese translators provide translation for:
NAATI Japanese Translator
NAATI certified translation is required for certain documents such as those related to immigration and visa applications. Your NAATI certified Japanese document translation will contain the certification and stamp of the Japanese NAATI translator.
We engage with full-time NAATI Japanese translators with working experience in the subject matter of the materials they are required to translate. Our NAATI translators are experts in translating documents for visa application purposes in Australia.
With a 100% acceptance rate for migration translation, you can trust Melbourne Translation Services for all your migration document translations. Get a free quote using our form or email your documents directly to enquiry@melbournetranslation.com.au.