Languages
»
Persian Translation Services
Persian translation services by NAATI translators in Sydney, Melbourne, Brisbane, Perth, Adelaide, Hobart, Canberra, Cairns, Newcastle, Darwin and Worldwide. Get your Persian documents translated by professional accredited Persian translators. Our Persian translation services are used by both individuals and businesses for our commitment to translation quality and timely delivery.
Upload your document for a free quote.
You can entrust your multi-language translation needs to us and be assured of that your projects get delivered on time. We are experienced in assisting agencies with translation and typesetting so that designers can concentrate on just design.

Visa Translation Services
We regularly provide translation documents required for immigration purposes in Australia. Get a quote, confirm the price is right, and receive your NAATI certified Persian translation by post. Besides migration translation, we also translate all personal documents required for legal purposes.
Localisation Services
Get the right Persian translator experienced in translating specialised technical material. Translation localisation involves a comprehensive study of the target culture in order to correctly adapt the product to local needs. We take care to choose only the right Persian technical translator suitable for each project.
Business Translation Services
Business or legal translation assignments, big or small, are treated with meticulous care and confidentiality. Our Persian translators provide translation and proofreading for:
Business proposals
Research papers
Minutes, emails, business correspondence
Annual reports
Financial statements
Formal letters, legal documents
More About The Persian Language
Persian is an Iranian language within the Indo-Iranian branch of the Indo-European languages. Persian, the more widely used name of the language in English historically, is an anglicized form derived from Latin *Persianus < Latin Persia < Greek Πέρσις Pérsis, a Hellenized form of Old Persian Parsa. According to the Oxford English Dictionary, the term Persian as a language name is first attested in English in the mid-16th century. Native Iranian Persian speakers call it Fârsi. Farsi is the arabicized form of Pârsi, due to a lack of the 'p' phoneme in Standard Arabic (i.e., the 'p' was replaced with an 'f').
In English, this language is historically known as "Persian", though some Persian speakers migrating to the West continued to use "Farsi" to identify their language in English and the word gained some currency in English-speaking countries. "Farsi" is encountered in some linguistic literature as a name for the language, used both by Iranian and by foreign authors. According to the OED, the term Farsi was first used in English in the mid-20th century. The Academy of Persian Language and Literature has declared that the name "Persian" is more appropriate, as it has the longer tradition in the western languages and better expresses the role of the language as a mark of cultural and national continuity. Most Persian language scholars such as Ehsan Yarshater and Kamran Talattof have also rejected the usage of "Farsi" in their articles.
Since the nineteenth century, Russian, French and English and many other languages have contributed to the technical vocabulary of Persian. The Iranian National Academy of Persian Language and Literature is responsible for evaluating these new words in order to initiate and advise their Persian equivalents. The language itself has greatly developed during the centuries.1
Besides Persian to English Translation
NAATI Persian to German Translation
NAATI Persian to Dutch Translation
NAATI Persian to Russian Translation
NAATI Persian to Arabic Translation
NAATI Persian to Spanish Translation
NAATI Persian to Portuguese Translation
NAATI Persian to Korean Translation
NAATI Persian to Danish Translation
NAATI Persian to Hungarian Translation
Persian Translator
We provide professional translation services for both Persian to English and English to Persian. Our certified Persian translators provide translation for:
NAATI Persian translations for visa applications
Academic transcripts
Business and legal contracts
Drivers license translation (except for use in NSW)
Scientific or research documents
Technical and engineering papers
Medical documents
NAATI translations for legal documents
Will I receive a hard-copy for the translation?
We will post a hard copy certified translation to your designated address if required. The certified copy will reach you usually within 1-2 working days by Australia Post.
Attach your documents here for an accurate and competitively priced quote.
NAATI certified Persian translation services
NAATI certified translation is required for certain documents such as those related to immigration and visa applications.
We engage with full-time NAATI accredited translators with working experience in the subject matter of the materials they are required to translate. We also have experience in managing multiple-language projects in print or online publications, and provide competitive quotes for all projects big or small.
Persian to English Translation
Fast translation
Affordable translation service
Certified translation
Qualified full-time translators
Receive by both post and email
Easy and secure online payment
Persian translations within 2-3 days

Persian Translator Melbourne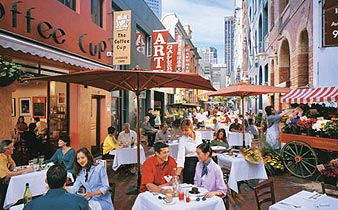 Melbourne is the capital and most populous city in the state of Victoria, and the second most populous city in Australia. The Melbourne City Centre is the hub of the greater metropolitan area and the Census statistical division—of which "Melbourne" is the common name. As of June 2010, the greater geographical area had an approximate population of four million. Inhabitants of Melbourne are called Melburnians or Melbournians.
The metropolis is located on the large natural bay known as Port Phillip, with the city centre positioned at the estuary of the Yarra River (at the northernmost point of the bay). The metropolitan area then extends south from the city centre, along the eastern and western shorelines of Port Phillip, and expands into the hinterland. The city centre is situated in the municipality known as the City of Melbourne, and the metropolitan area consists of a further 30 municipalities.
Melbourne was founded in 1835 (47 years after the European settlement of Australia) by settlers from Launceston in Van Diemen's Land. It was named by governor Richard Bourke in 1837, in honour of the British Prime Minister of the day, William Lamb—the 2nd Viscount Melbourne. Melbourne was officially declared a city by Queen Victoria in 1847. In 1851, it became the capital city of the newly created colony of Victoria. During the Victorian gold rush of the 1850s, it was transformed into one of the world's largest and wealthiest cities. After the federation of Australia in 1901, it then served as the interim seat of government of the newly created nation of Australia until 1927.
Often referred to as the "cultural capital of Australia", Melbourne is the birthplace of cultural institutions such as Australian film (as well as the world's first feature film), Australian television, Australian rules football, the Australian impressionist art movement (known as the Heidelberg School) and Australian dance styles such as New Vogue and the Melbourne Shuffle. It is also a major centre for contemporary and traditional Australian music.1
Most Requested Language Translation and Typesetting Combinations